Medical devices - Calculation of TEA
Revision of standard 10993-18: FILAB integrates the notion of TEA into its chemical characterization procedures for medical devices.
The revision of the ISO 10993-18:2019 standard on the physicochemical characterization of materials associated with medical devices will be published very soon (estimated for the last quarter of 2019), and it is in the interest of medical device manufacturers to integrate the changes now so that they are not obliged to redo their chemical characterizations when it comes into force.
Although the analytical approach remains the same overall, this revision clarifies many points – notably on the characterization of extractables – and includes new concepts such as TEA.
The TEA defines a limit of quantification or detection for the analyses applied in this evaluation.
According to the draft standard ISO 10993-18:2019, the calculation of TEA is performed as follows: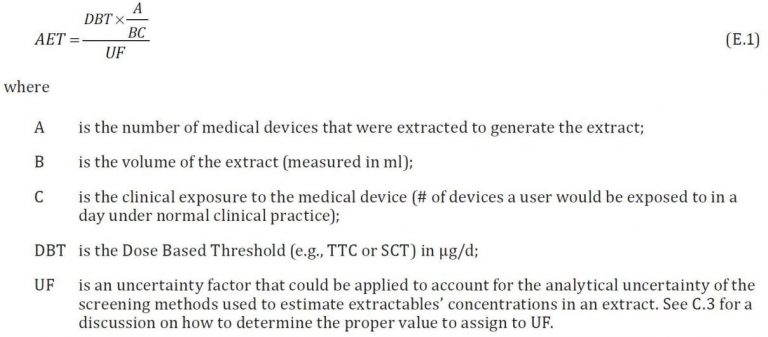 In order to support you in this regulatory transition, FILAB now includes the calculation of TEA in its offer of chemical characterization of materials according to ISO 10993-18.
FILAB is the first laboratory to obtain COFRAC 17025 accreditation according to ISO 10993-18! This completes our COFRAC ISO 17025 accreditations on medical devices for HCT / COT analysis and inorganic residue analysis by ICP according to ISO 19227 (More information on www.cofrac.fr – accreditation n°1-1793).
Download our Medical Devices brochure
FILAB also provides the following services: 
Our services
Biocompatibility study according to ISO 10993 ( -18 / -12 / -13 / -14 / -15 / -19 / -22 )

Problem solving: non-conformity, breakage, adhesion, corrosion... 
R&D support: custom chemical analysis, analytical development

Process validation: Cleaning (ISO 19227), surface treatment
The positive aspects of FILAB
A highly qualified team

Responsiveness in responding to and processing requests

A complete analytical park of 2100m²

Tailor-made support
Caroline KURZAWA
R&D Project Engineer