Patent registration
Your needs: filing a patent on your inventions
You have just created an innovative product or process and you wish to protect it? Whether it is a material object or a manufacturing process, it is strongly recommended to patent your invention. Here is what you need to know about patenting.
First of all, a patent is an official act of industrial property that grants a monopoly of exploitation to the applicant on his invention on the French territory for a maximum of 20 years.
Moreover, the fact of filing a patent prohibits any exploitation of the latter without authorization.
Firstly, the advantage of registering a patent is that you are the only one who can use this invention for a maximum period of 20 years.
In return, you are subject to an exploitation obligation. For reasons of technical progress, you must imperatively use your invention, otherwise this monopoly will be withdrawn.
Moreover, the patent registration also allows you to seal the date of creation of your invention, thus constituting a proof of anteriority in case of litigation.
Thus, the support of a laboratory specialized in patent registration is an essential step in the protection of your innovations.
FILAB assists you in filing a patent application
In order to provide you with the best possible support, FILAB has been granted the Research Tax Credit (RTC).
Through our three levels of services – analysis, expertise and R&D support – FILAB assists companies of all sectors and sizes in filing patents, providing its clients with the know-how and experience of its team.
To go further
Advice in the choice of materials (double sourcing evaluation)

Reverse-engineering of material
The positive aspects of FILAB
A highly qualified team

Responsiveness in responding to and processing requests

A complete analytical park of 2100m²

Tailor-made support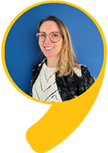 Caroline KURZAWA
R&D Project Engineer