GC/MS, HS-GC/MS and TDU-GC/MS laboratory
Your needs: analyze your products by GC/MS
Chemical analysis by Gas Chromatography coupled to Mass Spectrometry (GC/MS) aims to separate different volatile and semi-volatile compounds from a mixture and to analyze them in a qualitative, semi-quantitative and quantitative way.
This technique is particularly adapted to the analysis of apolar volatile compounds such as residual solvents, oils, hydrocarbons, alkane derivatives and small organic molecules such as phthalates.
Additional analytical modules are available to analyze a wide range of volatile and semi-volatile substances including: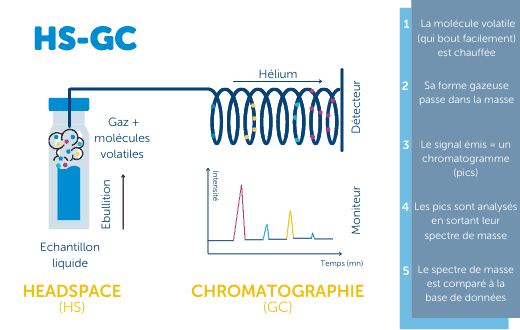 Nos solutions : nos services dédiés à l'analyse GC/MS
For more than 20 years, our FILAB laboratory has had the experience and specific analytical equipment to assist companies in the GC-MS analysis of their formulas, polymeric or composite materials, through tailor-made support.
From analysis to R&D, the FILAB laboratory offers a multisectoral expertise for several types of thermal analysis requests:
our services
Headspace analysis: HS-GC/MS

Characterization of materials
Themodesorber analysis (TDU-GC/MS)

Accompaniment on the choice of a material (to control the lifespan of a product or an installation)
The positive aspects of FILAB
A highly qualified team

Responsiveness in responding to and processing requests

A complete analytical park of 2100m²

Tailor-made support
Caroline KURZAWA
R&D Project Engineer