FILAB supports you in the validation of new solutions for materials and processes
Vous souhaitez valider de nouvelles solutions pour la matière et les procédés
First of all, when production problems related to the material and/or the processes are encountered, a step of research of new solutions for the material and the processes is necessary to solve the possible problems of defective or non-conforming part, odor, change of color, adhesion, chemical composition, etc…
Once new solutions are found, a step of implementation of these solutions in the production process is necessary, often requiring a scale-up step when solutions first found in the laboratory on a small scale must be developed on a large scale.
Once these solutions have been implemented, it is then necessary to validate the reliability and reproducibility of these new solutions in a production context for the material and the processes.
To do this, the services of a laboratory with state-of-the-art analytical equipment and a competent R&D team are essential.
Validate your new material and process solutions with FILAB
In order to support manufacturers in the development and quality control of their products, by following the regulatory evolutions, FILAB laboratory puts at your disposal a state-of-the-art analytical park of 2100m² as well as a team of R&D experts to support you in the validation of new solutions for materials and processes.
The validation of these new solutions requires in-situ analysis and monitoring, which FILAB is able to offer you by bringing its doctors and engineers to you.
OUR SERVICES
Solving your production problems
Search for new solutions for materials and processes

Manufacturing defect resolution
The positive aspects of FILAB
A highly qualified team

Responsiveness in responding to and processing requests

A complete analytical park of 2100m²

Tailor-made support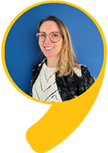 Caroline KURZAWA
R&D Project Engineer