Elemental impurity analysis in pharmaceutical products according to USP 233 (ICH Q3D context)
What is USP 233 / ICH Q3D?
The ICH (International Conference on Harmonisation) Q3D guideline establishes the methodology for the assessment of elemental impurities in pharmaceutical products, including human medicines.
The ICH Q3D guideline mentions a first phase intended for the preliminary evaluation (risk assessment) either on documentary data or by an analytical step of screening in laboratory (qualitative and semi-quantitative analytical screening, quantitative analysis or determination of elemental impurities by ICP-AES and ICP-MS).
The ICH Q3D guideline has been applicable since June 2016 to new applications for Marketing Authorization (MA), and in January 2018 for drugs already on the market.

What are the impurities to be analyzed under USP 233 / ICH Q3D?
The ICH Q3D reports 4 classes of elemental impurities, including heavy metals, according to their toxicological impact and their potential presence in the pharmaceutical product.
Class 2b : Ag, Au, Tl, Pd, Pt, Ir, Os, Rh, Ru, Se
Class 3 : Sb, Ba, Li, Cr, Cu, Sn, Mo
The methodology for the analysis of elemental impurities in drugs is described in the USP 233 guideline (US Pharmacopeia No. 233: Elemental Impurities – Procedures).
This analytical methodology now uses modern analytical techniques such as ICP (ICP-AES and ICP-MS), or the mercury amalgamator.
Depending on the results and the consideration of the acceptable threshold (30% of the PDE), control plans can be set up and the analytical methods validated according to the USP 233.
The search for elemental impurities according to the ICH Q3D directive: a speciality of the FILAB laboratory
For more than 30 years, FILAB laboratory has been offering elemental impurity analysis services according to ICH Q3D, some of them under COFRAC ISO 17025 accreditation.
Thanks to its state-of-the-art analytical equipment (12 ICP-MS and ICP-AES, 1 mercury amalgamator with autosampler, plate or microwave mineralization techniques) and its high level of expertise in elemental analysis, FILAB offers you its elemental impurity analysis services to meet the requirements of the ICH Q3D Directive:
FILAB laboratory is COFRAC ISO 17025 accredited on the following scope since 2015: Analysis and determination of elemental impurities and minerals including heavy metals by ICP-AES and ICP-MS in cosmetic and pharmaceutical products according to European Pharmacopoeia 2.4.20 and USP 233
FAQ
Depending on the client's needs, FILAB offers several analytical validation approaches.
The most complete validation will follow the requirements of the chosen standard (ICH Q2 or USP 233) and will be based on a matrix.
For a complete validation, it takes between 6 and 8 weeks. For routine assays, analysis times are between 5 and 10 working days. 
The ICH Q3D guidelines apply to the quantification and control of elemental impurities in all types of pharmaceutical products, including :
human medicinal products,
veterinary medicinal products,
and biological products.
These guidelines are designed to help drug manufacturers assess the health risks associated with the levels of elemental impurities present in pharmaceutical products, and to put in place control measures to ensure that these levels are safe.
The ICH Q3D guidelines also apply to
raw materials
excipients used in the manufacture of medicinal products
as well as to finished products.
They cover the 24 chemical elements considered to be of greatest concern in terms of potential toxicity to patients, including lead, cadmium, mercury, arsenic, etc.
The positive aspects of FILAB
A highly qualified team

Responsiveness in responding to and processing requests

A complete analytical park of 2100m²

Tailor-made support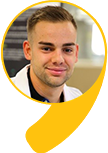 Clément BOENARD
Head of Analysis Department