Literature review services
Your needs: to conduct a swift and complete literature review as part of an R&D project or an investigation
A literature review consists of assembling any available technical and scientific information such as articles, patents, work projects etc. which may be useful in understanding a current problem or industrial challenge. Reviews can also be conducted as part of research and development projects (R&D) in any industrial field.
As truly a useful for driving innovation, literature reviews can be conducted when integrating new products onto the market, when developing new products, when attempting to substitute a substance, when optimizing a production procedure or even when trying to better understand noncompliance phenomena (discolorations, odor problems…)
Literature reviews allow us to get an idea of the current state of a subject before coming up with hypotheses which can then be tested by performing laboratory experiments (formulation, performance testing, chemical analysis and characterization…). In light of this, support from a specialized laboratory will allow you to centralize your testing and research to save time and be more efficient and reliable to complete your R&D projects.
Our solution: to provide you with complete literature reviews with specific technical and scientific assistance
With dual expertise in chemistry and materials science, and a team made up of experienced doctors and engineers, FILAB is able to conduct literature reviews to assist industrialists with their R&D projects.
Are you short on time? On internal means for conducting a literature review?
FILAB can provide you with the necessary expertise and support to carry out literature reviews and provides assistance at every step of the way:
Drafting of a scope statement

Formation of a hypothesis

Tests in real world conditions

Patent registration
Study of what already exists

Research proposal to test the hypothesis

Industrialization phase
With three levels of services – analysis, expertise and R&D support – FILAB assists companies from all sectors and of all sizes in overcoming their industrial challenges by sharing its technical know-how and the wealth of experience of its team with its clients.
The positive aspects of FILAB
A highly qualified team

Responsiveness in responding to and processing requests

A complete analytical park of 2100m²

Tailor-made support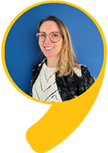 Caroline KURZAWA
R&D Project Engineer