Our CSR policy
FILAB's Corporate Social Responsibility
Today, corporate social responsibility is no longer something that is considered in addition to a company's main activity. It is at the heart of its fundamentals.
Whether it is the well-being of our employees, our responsibility as an employer or the imperative to preserve resources both to protect the environment and to control costs, everything leads us to consider these issues as strategic and to put them at the heart of our activity and our concerns.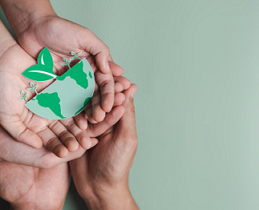 Through its CSR policy, FILAB aims to ensure that the company takes into account the impact of its activity on society and the environment and contributes positively to its improvement.
This policy is built around 4 main areas, monitored at regular intervals by a dedicated CSR Steering Committee and by the company's management bodies.
The 4 major axes of our CSR policy
- Sustainable development

Improvement of our waste management thanks to a partner dedicated to the collection and reprocessing of waste, reduction of the reprocessing of our clients' samples thanks to the mention of a precise quantity necessary for the realization of our analysis, sensitization of our collaborators to sustainable development via in particular the realization of workshops of La Fresque du climat. 

Recording of all incidents taking place in the laboratory, regular training of all employees (laboratory safety, quality, fire safety, first aid at work, etc.), quarterly follow-up of any accidents or near misses by the SST, etc.

Work on improving working conditions (working environment, ergonomics, flexibility, professional development), participation in events under the FILAB banner, carrying out a recurring questionnaire on Quality of Life in the Workplace, welcoming interns and work-study students, particularly from local training programs, and monitoring our performance in terms of equal pay for men and women by establishing the Equal Pay Index for Men and Women.

Maintaining permanent transparency with our teams through monthly meetings presenting the results of the past month's activities (safety, investments, recruitments, etc.), improving internal communication, in particular through the implementation of an HRIS tool, implementing a Code of Conduct for distribution to our partners (customers, suppliers), sharing the results of our Ecovadis evaluation with our customers….
Our CSR policy improvement objectives for 2023
FILAB will continue to develop and improve its CSR policy in 2023 with the completion of a carbon footprint, the updating of our Ecovadis assessment, and in the medium term the drafting of a CSR/Ethics Charter.