Analysis by LC-ELSD in laboratory
You want to perform an analysis by LC-ELSD
Why perform an LC-ELSD analysis ?
First of all, the acronym ELSD stands for Evaporative Light Scattering Detector. ELSD is a detector used in HPLC analysis.
LC-ELSD analysis is preferred over other detection methods for analysis such as carbohydrate, natural sugar and polymer analysis.
This is because, as a mass detector, ELSD has advantages over other detection methods such as UV detection, which requires analytes to contain chromophores, and it is not affected by mobile phase variations and gradient baseline shift.
LC-ELSD analysis is therefore a versatile and powerful analytical technique.
FILAB supports you in your LC-ELSD analysis needs
Through our three levels of services: analysis, expertise and R&D support, FILAB assists companies from all sectors in their LC-ELSD analysis needs. FILAB provides its customers with the know-how and experience of its team, as well as a 2100m² analytical park equipped with state-of-the-art equipment.
The positive aspects of FILAB
A highly qualified team

Responsiveness in responding to and processing requests

A complete analytical park of 2100m²

Tailor-made support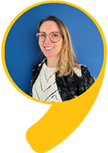 Caroline KURZAWA
R&D Project Engineer