Substitution of CMR substances with help from a laboratory
A study conducted by France's INRS (Institut National de Recherche et de Sécurité, Nation Research and Safety Institute) on behalf of the Ministry of Labor, found that an estimated 4,8 million metric tons of CMR (carcinogenic, mutagenic, and reprotoxic) substances were consumed in France in 2005.
The majority of which (83%) was due to the use of CMR substances that fall into 3 categories:
chlorinated halogens (ex. dichloromethane, vinyl chloride…)
aromatic compounds (ex. benzene)
aliphatic compounds (ex. ethylene oxide)
Substituting a hazardous chemical consists in replacing that chemical with a safer substance or mixture.
This is a top priority in terms of occupational risk prevention as it makes it possible to limit exposure to hazardous chemicals.
As we regularly meet with our clients, this is a safety issue that is of great interest to all of our contacts regardless of their field : aeronautics, nuclear energy, transportation, chemicals, consumer goods, etc. and regardless of the concerning substance.
We assist our clients, industrialists such as yourselves, who wish to substitute one of their substances by providing examples of substitutions we have found for other clients or that can be found in scientific literature.
We provide support in line with our core values. We always keep in mind the fact that each project or solution must provide an industrial advantage to the benefit of our client :
a substance of higher purity
a more ecological substance
an innovation
time saving
a boost in productivity
And so, in secret, the first step consists in a preliminary technical exchange to get a better understanding of context and client needs/expectations.
If we then determine that we have the technical means to assist the client, we develop a custom support proposal, describing each step of the project, showing any deliverables and answers we will be able to provide.
As an example :
Literature review
Proposal of various formulations
Laboratory development of these formulations
Performance and stability testing
Industrial implementation
Production
Patent registration
As we often say to our clients, "everything is possible and can be discussed"
The aim is therefore to take the whole project, from start to finish, into account right from the start of our discussions.
Are you interested to know more or do you wish to discuss with one of our specialists without any commitment on your part ?
The positive aspects of FILAB
A highly qualified team

Responsiveness in responding to and processing requests

A complete analytical park of 2100m²

Tailor-made support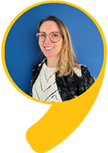 Caroline KURZAWA
R&D Project Engineer