Laboratory for the analysis of slippery additives
FILAB laboratory - laboratory for the analysis of slippery additives in plastic packaging
The addition of slip additives provides slip properties to a product at the time of production (during molding) but also on the finished product.
For example, the use of these slippery agents in polyethylene films allows to reduce the Coefficient of Friction (COF) and to keep the gloss, transparency and clarity of the product.
Thanks to the complementarity of our analytical tools and our dual expertise in chemistry and materials, the FILAB laboratory offers several types of services related to the analysis and control of slip additives, according to reliable analysis methods:
Identification and analysis of slippery additives by HPLC-MSMS, GC-MS and Py-GCMS: bisphenol A, phthalates, BHT (Butylated Hydroxytoluene), 2,4,6-TTBP, Uvitex OB, Irganox 1076, Irgafos 168, Irganox PS800, Chimassorb 81, Irganox 1010, Irganox 1330, Irganox degradate
Characterization of polymers: study of physicochemical and thermal properties by DSC, ATG, NMR, SEM and FTIR
Support in the development of your products based on slippery additives: optimize the use of your slippery agents, control the conformity of your dosages, help in the formulation of the product, help in the substitution of a CMR product…
Deformation of polymer products to highlight the presence of slip additives through qualitative and quantitative analysis
Development of customized analytical methods in accordance with current standards
Through our three levels of services – analysis, expertise and R&D support – FILAB assists companies of all sectors and sizes in the analysis and characterization of slippery additives by providing its clients with the know-how and experience of its team.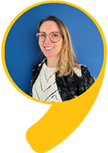 Caroline KURZAWA
R&D Project Engineer