Density characterisation of metal powders in the laboratory
You wish to characterise the density of metal powders
Why characterise the density of metal powders?
First of all, the density of a metal powder is relative to different parameters depending on whether it is packed or not, as what is determined is the density of the metal powder studied.
In fact, following the recommendations of the Ma-0015 standard, the different types of density that can be determined are
The bulk density, determined by the funnel method, in accordance with ISO 3923-1 or ASTM B212
Density after compaction, determined according to ISO 3953 or ASTM B527.
True density, determined by helium pycnometry, in accordance with ISO 12154 or
ASTM B923
The support of a laboratory competent in the determination of these parameters is therefore essential in the characterisation of the density of metal powders.
FILAB helps you characterise the density of your metal powders
Through our three levels of services: analysis, expertise and R&D support, FILAB assists companies from all sectors in characterising the density of metal powders. FILAB provides its clients with the know-how and experience of its team, as well as a 2100m² analytical park equipped with state-of-the-art equipment.
The positive aspects of FILAB
A highly qualified team

Responsiveness in responding to and processing requests

A complete analytical park of 2100m²

Tailor-made support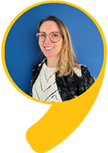 Caroline KURZAWA
R&D Project Engineer