Study of failures on parts produced by additive manufacturing
Industrialists in the metallurgy sector, you are experiencing failures in your parts resulting from additive manufacturing
What is additive manufacturing?
Additive manufacturing consists of producing a part by successive stacking of powders, mostly metallic, fused by a beam (laser or electrons for example).
This manufacturing process makes it possible to produce unique and complex parts. This is why it is used in many applications in very demanding markets such as aeronautics, medical, space, defence, etc.
Why study the failures of additive manufacturing parts?
Due to their manufacturing process, parts produced by additive manufacturing are particularly sensitive to changes in raw materials. 
Indeed, the variation in the size or shape of the powder particles has a direct impact on the quality of the manufactured part. In addition, several failures can be observed, notably corrosion, deformation or even breakage.
Thus, a laboratory specialised in additive manufacturing is a necessary accompaniment for the optimisation of your materials.
FILAB supports you in the study of failures on parts produced by additive manufacturing
With significant experience in the study of additive manufacturing failures and benefiting from genuine know-how recognised in the context of our COFRAC accreditations and SAFRAN approval (in particular according to the Ma-0015 specifications), FILAB can assist you with your failure study needs associated with additive manufacturing activities.
To go further
Specific surface analysis by BET

Morphological analysis by SEM-EDX FEG or Optical Microscopy

Corrosion analysis and expertise
Analysis of the chemical composition of metal powders by ICP-AES, ICP-MS and/or by C/S, O/N, H...
Study of a fracture surface

Evaluation of the removal of additive manufacturing residues in DM manufactured by powder bed fusion according to ASTM F3335-20
The positive aspects of FILAB
A highly qualified team

Responsiveness in responding to and processing requests

A complete analytical park of 2100m²

Tailor-made support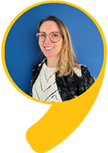 Caroline KURZAWA
R&D Project Engineer