Support from a laboratory in the choice of your raw materials
Your needs: to control the conformity of materials used in the development of a new product.
Faced with the industrial problems arising from production constraints (deadlines, available tools, desired characteristics, etc.) or marketing constraints (environment, cultural adaptations, packaging, etc.), the choice of raw materials used represents an essential step in the development process of a new product. Indeed, the quality and compatibility of the materials used will contribute to the performance of the final product and to its good adaptation to its environment.
By studying the behaviour and properties of each material, the objective is to identify the one that will be the most suitable for the use of the final product and its environment.
Le support d'un laboratoire analytique indépendant vous assure une objectivité et une aide technique dans cette prise de décision.
Our solutions: support you in the choice of your manufacturing materials using characterisation tools and behavioural studies.
The FILAB laboratory has the know-how and characterisation techniques to study the chemical, physical and organisational properties of a material in order to understand its behaviour. To do this, FILAB is involved in the qualification of your raw materials in several ways:
Control of the conformity of the materials used:
Custom chemical analysis
Material characterisation
Surface analysis
Failure studies
Ageing tests
Improvement of the cleaning protocol
Development of a substitute product
Surface treatment
Deformation
Audit and training in analytical chemistry
Bibliographic study on the performance of materials
Through in-depth studies on the behaviour of materials, our teams are able to provide you with precise advice accompanied by technical arguments to help you choose your materials or raw materials. As an independent laboratory, FILAB guarantees impartiality and objectivity in the interpretation of its results, and ensures rapid processing of requests as well as personalised support for its clients.
The positive aspects of FILAB
A highly qualified team

Responsiveness in responding to and processing requests

A complete analytical park of 2100m²

Tailor-made support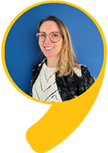 Caroline KURZAWA
R&D Project Engineer