Nano-indentation analysis with SEM in the laboratory
You wish to perform a nano-indentation analysis with SEM
First of all, nano-indentation is a technique for the mechanical characterisation of materials. This characterisation technique is said to be instrumented when the force applied to the contact and the depth of penetration it generates are measured continuously by an instrument. The indentation test consists of making a point called an indenter of known geometry and mechanical properties penetrate a material to deduce its mechanical properties. The nano-indentation technique makes it possible to apply loads of the order of ten micronewtons for depths of between a few tens of nanometres and a few micrometres. Nanoindentation offers a wide range of applications for the mechanical characterisation of materials: hardness, Young's modulus, creep, adhesion, etc.
Why perform nano-indentation analysis with SEM?
SEM-EDX is a microscopic analysis technique using a field effect gun (FEG). This technique produces very high resolution images of the surface of a sample (magnification of the order of *1000000).
In addition, the SEMs are coupled with EDX probes allowing for accurate analysis. These SEM-EDX techniques are thus equipped with a detection of signal in column 20 times more intense than that of a conventional Scanning Electron Microscope. Thus, SEM-EDX allows non-destructive, accurate and fast observation and analysis of the measurements required for nanoindentation analysis.
Thus, the support of a laboratory equipped with SEM-EDX is essential in the context of a need for analysis by nano-indentation. 
FILAB supports you in your needs for nanoindentation analysis with SEM
Through our three levels of services: analysis, expertise and R&D support, FILAB assists companies from all sectors in their needs for nanoindentation analysis with SEM. FILAB provides its clients with the know-how and experience of its team, as well as a 2100m² analytical park equipped with state-of-the-art equipment.
to go further
SEM EBSD analysis
Cryo-MEB analysis
Extreme surface analysis
SEM-EDX analysis laboratory
Atomic Force Microscopy (AFM) analysis
Surface analysis for medical devices
The positive aspects of FILAB
A highly qualified team

Responsiveness in responding to and processing requests

A complete analytical park of 2100m²

Tailor-made support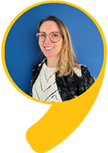 Caroline KURZAWA
R&D Project Engineer