Analysis and determination of heavy metal contents in cosmetic products
In cosmetics the use of minerals can be explained by their advantageous properties :
– Physical properties (mattifying, thickening, filtering…)
– Sensory properties (colors, textures, transparency…)
However, the use of certain minerals, namely heavy metals, is subject to stringent regulations.
What do the regulations state ?
Heavy metals are not used as ingredients in cosmetic products but can be found in trace amounts in the form of impurities mostly coming from the raw materials used in the production process.
French regulations surrounding the heavy metal contents of cosmetic products are not clearly stated. Certain heavy metals are prohibited while others can be tolerated in trace amounts on the condition that they do not pose a health risk (even though this is not always proven to be the case…). Moreover, the analytical methods used to verify the concentrations of heavy metals and not yet standardized making it even more difficult to set precise limits.
What techniques are used to quantify heavy metals in cosmetic products ?
The ISO/TR 17276:2014 standard specifies the most common and typical analytical approaches for screening and quantification of heavy metals of general interest at both raw material and finished product level. At FILAB we have separated our heavy metal analysis into two parts :
1.Sample preparation either by leaching or complete mineralization.
2.Screening and quantification of samples. Depending on the composition of the sample, some of the following analytical techniques will be used :
· X-Ray Fluorescence (XRF)
· Colorimetric testing
· Atomic Absorption Spectrometry (AAS)
· Inductively coupled plasma spectrometry (ICP-AES or ICP-OES), or Mass Spectrometry (ICP-MS)
ICP is an elemental analysis technique which energizes atoms for them to then return their fundamental state releasing the built-up energy. The radiation they emit is specific to each element and allows for trace amounts of metallic compound to be quantified (in the range of 0,01 to 1 mg/kg). FILAB has 8 ICP (AES and MS) machines in its arsenal.
For certain more volatile heavy metals such as Mercury, FILAB has specific, more precise analytical techniques like using Mercury Analyzers which allow us to skip the sampling process.
Our solution : to provide our analytical services and our technical facilities adapted to your products all in a small timeframe
 Since October 2015 FILAB laboratory has been ISO 17025 accredited by COFRAC for the determination of metallic impurities in raw materials used in pharmaceutical products following internal methods validated according to the recommendations of the European Pharmacopoeia 2.4.20 and the American Pharmacopoeia USP 233.
With three levels of services – analysis, expertise and R&D support – FILAB assists companies from all sectors and of all sizes in overcoming their industrial challenges by sharing its technical know-how and the wealth of experience of its team with its clients.
FILAB is CIR (Crédit Impôt Recherche) approved to assist you in the best possible conditions.
The positive aspects of FILAB
A highly qualified team

Responsiveness in responding to and processing requests

A complete analytical park of 2100m²

Tailor-made support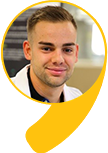 Clément BOENARD
Head of Analysis Department