Training in the DRX technique for laboratories
Your teams need training in the DRX technique...
What is the principle of X-ray Diffraction?
X-ray Diffraction (XRD) is an analytical technique that allows the study of the different phases of materials and crystalline materials.
The principle of XRD is based on two axes :
the identification and quantification of the chemical elements that make up a material
access to numerous information contained in the arrangement of the elements within a material
Qualitative analysis allows the identification of the crystalline compounds present in a material as well as their crystallographic forms. As for quantitative analysis, it allows the determination of the contents of these compounds in the trace state as well as in the state of major compounds by refinement according to the Rietveld method or by specific calibration.
Why train in XRD?
The applications of XRD analysis are multiple…you will be able to : 
Control of the purity of ceramic materials

To highlight the residual austenite in a metal alloy

Qualifier des laitiers de fonderie
Determination of crystal impurities in a cementitious material

Characterize bone substitutes (hydroxyapatite HAP powder according to NF ISO 13779-3 standard)

...
You have just acquired a DRX in your laboratory? The competent person(s) are no longer part of your team? Would you like to improve your expertise in XRD analysis and the exploitation of results?
As an accredited training organization, FILAB supports your teams in the use of the X-ray Diffraction (XRD) analysis technique, regardless of your sector of activity.
This technique has many applications, particularly in the fields of metallurgy, geochemistry, ceramics, pharmaceuticals and medicine.
At FILAB, we develop and offer our clients tailor-made training courses, in line with your industrial issues or analytical challenges. 
The positive aspects of FILAB
A highly qualified team

Responsiveness in responding to and processing requests

A complete analytical park of 2100m²

Tailor-made support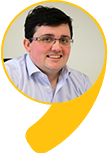 Thomas ROUSSEAU
Scientific and Technical Director