HS-GC/MS analysis in the laboratory
Your needs: analyze your material or product by HS-GC/MS
What is a HS/GC-MS analysis?
To begin with, HS/GC-MS is the abbreviation of Gas Chromatography-Mass Spectrometry (GC-MS) with headspace injection (HS).
It is a method that allows first to extract compounds present in the surrounding air. Then, the extracted compounds are analyzed by gas chromatography coupled to mass spectrometry. The compounds are thus identified and analyzed in a qualitative, quantitative and semi-quantitative way.
This method is particularly adapted for the analysis of volatile compounds, such as
odorous objects (ex: plants, oils…)
from waste water and contaminated soil samples
residual solvents in packaging and pharmaceutical products…
Our solutions: provide you with our expertise in HS/GC-MS analysis and support in interpreting the results
For more than 30 years, our laboratory FILAB has had the experience and the specific analytical equipment to assist companies in the HS/GC-MS analysis of their formulas, polymeric or composite materials, through a tailor-made support.
As an independent laboratory, with a team of experienced doctors and engineers, FILAB guarantees the reliability of its results. In addition, FILAB ensures rapid processing of requests as well as personalized support for its clients.
From analysis to R&D, FILAB offers multi-sectoral expertise for several types of services.
examples of services
Analysis by TDU-GC-MS themodesorber

Dosing of substances in food products, cosmetics...

Chemical characterization according to standard 10993-18 (medical devices)
The positive aspects of FILAB
A highly qualified team

Responsiveness in responding to and processing requests

A complete analytical park of 2100m²

Tailor-made support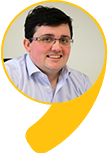 Thomas ROUSSEAU
Scientific and Technical Director