Training in failure analysis
Your teams need training in failure analysis
Whether initiated by an internal manufacturing issue or by customer feedback, a product failure results in product deterioration, impacting reliability, robustness and performance. FILAB supports you in the analysis, study and formation of failures.
Have you just recruited new talent in your laboratory? Are the competent person(s) no longer part of your team? Do you want to improve your expertise in failure analysis?
FILAB can help you meet these needs.
FILAB, thanks to its experience and its vast analytical resources, has expertise in failure analysis, breakage analysis, deposit identification, etc.
FILAB also has skills in the transfer of analytical methods and training to laboratories, enabling it to train you in laboratory failure analysis.
As an accredited training organisation, FILAB provides training for your teams in all sectors of activity.
At FILAB, we develop and offer our clients tailor-made training courses that are in line with your industrial problems or analytical challenges.
The positive aspects of FILAB
A highly qualified team

Responsiveness in responding to and processing requests

A complete analytical park of 2100m²

Tailor-made support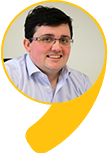 Thomas ROUSSEAU
Scientific and Technical Director