Chemical analysis laboratory Paris
Your needs: analyse the chemical substances that make up your finished products and raw materials in the Ile-de-France region and Paris (75)
Ensuring product performance and quality is crucial for any industrial sector to thrive. This is where chemical analysis plays a pivotal role. From identifying contaminants, to checking composition and physical properties, chemical analysis can provide valuable insights into any product's characteristics. In addition, adherence to regulatory compliance is paramount in any industry. Chemical analysis helps ensure compliance with laws and regulations while detecting any failure that may have occurred. By utilizing chemical analysis, industrial sectors can remain competitive while providing high-quality products to their customers. To accomplish this, the use of analytical chemistry makes it possible to obtain quantitative chemical analysis (concentration and dosage of components) or qualitative analysis (nature of a chemical composition).
Our laboratory specialized in chemical analysis and has cutting-edge analytical methods, is there to guide you in this process.
Located in the heart of Burgundy, in Dijon, in the middle of the Paris-Lyon axis, the Filab laboratory is quickly accessible for companies based in the Paris region and Ile-de-France.
How long is the journey from Paris to Dijon by car?
It takes about 3 hours by car on the A6 motorway, direction Lyon, from Paris to reach Dijon.
How long is the journey from Paris to Dijon by train?
The average train journey between Paris and Dijon is 2.5 hours. The fastest TGV takes about 1.5 hours from station to station. There are currently 16 possible journeys per day. Once in Dijon, the Filab laboratory is easily accessible via the tram or the city's bus network.
Our solutions: supporting manufacturers with tailor-made chemical analysis services.
Thanks to its high-level, multidisciplinary team, the FILAB analytical chemistry laboratory offers a wide range of chemical analysis services to control all your raw materials and finished products.
With over 15 years of experience, especially serving a growing Parisian clientele, the Filab chemical and analytical lab is a trusted provider due to its expertise in addressing the challenges faced by businesses in Paris and the surrounding areas.

Our chemical analysis
Analysis of raw materials (search for impurities)
Industrial chemical analysis
Our techniques
GC-MS, HS-GCMS (Gas Chromatography)
HPLC-MS/MS, HPLC-DAD (Liquid Phase Chromatography)

ICP-AES, ICP-MS

FTIR (Infrared Spectroscopy)
DSC

UV (UV-Visible Spectrometry..)
IC (Ion Chromatography)
SEM-EDX (Scanning Electron Microscopy)
The FILAB laboratory helps companies of all sectors and sizes to solve their industrial problems. We provide you with the know-how and experience of our team of PhD students and engineers. 
The positive aspects of FILAB
A highly qualified team

Responsiveness in responding to and processing requests

A complete analytical park of 2100m²

Tailor-made support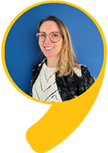 Caroline KURZAWA
R&D Project Engineer